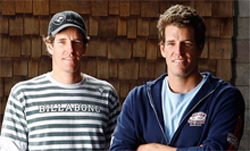 Bitcoin has received its most high-profile endorsement yet as the Winklevoss twins, famous for their legal battle with Facebook, reveal they could be the largest holders of the controversial digital currency – just as the bubble bursts and the price plummets.
Cameron and Tyler Winklevoss, the brothers who sued Facebook founder Mark Zuckerberg for $140million, alleging that he stole the idea for elements of the social network from them, claim to have as much as $11million invested – or had, as the last two days have seen a dramatic popping of the bitcoin bubble.
The New York Times reports that, as of Thursday morning, they had $11 million worth of bitcoins. At the time the intangible assets were trading for around $120 – giving the former Olympic rowers an estimated holding of around 92,000 bitcoins.
Since then they have fallen to $77, meaning that the pair's investment has taken a serious hit. But the news may not be as bad as it seems: they are reported to have begun buying last summer, when bitcoins were still trading for just a few US dollars each. Read entire article>>