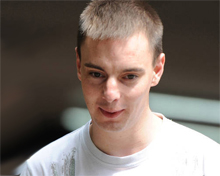 A 26-year-old man has pleaded guilty to one count of computer hacking as part of a group known as Lulzsec.
Ryan Ackroyd, from South Yorkshire, admitted to being part of the group, whose targets included the NHS and the UK's Serious Organised Crime Agency (Soca).
He will not face trial on another count of operating a "denial of service attack" (DDoS), which will lie on file.
He and three others on similar charges will be sentenced next month.
Source: BBC News; Read More>>