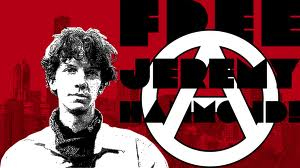 A 28-year-old US man faces up to 10 years in prison after pleading guilty to carrying out a cyber-attack on global intelligence firm Stratfor.
"Anarchist and hacker" Jeremy Hammond – who said he was part of activist group Anonymous – was charged with stealing information from Stratfor in 2011.
The data included details of more than 850,000 clients, including government and law enforcement agencies.
Some of the accessed material was subsequently published by Wikileaks.
Credit cards linked to some of the accessed details were used to spend more than $700,000 (£465,000) – with some of the money going to charities including the Red Cross and Save the Children.
His supporters have called Hammond "one of the few true electronic Robin Hoods".  Read the entire article>>
Source: BBC.com
---
Also see:
Anonymous Hacker Jeremy Hammond Pleads Guilty
from: Information Week | by: Mathew J. Schwartz
A hacktivist with ties to Anonymous, LulzSec and AntiSec has pleaded guilty to hacking charges.
Jeremy Hammond, 28, pleaded guilty Tuesday to one count of conspiracy to engage in computer hacking, for which he'll face up to 10 years in prison. Hammond, who's agreed to pay up to $2.5 million in restitution, is due to be sentenced in September.
As part of his guilty plea, Hammond admitted to masterminding an attack against private intelligence agency Stratfor (aka Strategic Forecasting) in December 2011 that resulted in the compromise of account information for approximately 860,000 Stratfor users. Hammond and his fellow attackers also published emails and stolen data relating to approximately 60,000 credit cards, with which over $700,000 in unauthorized charges were made.
Hammond also admitted to participating in numerous other hack attacks, including the FBI's Virtual Academy (June 2011), the Arizona Department of Public Safety (June 2011), Brooks-Jeffrey Marketing (June 2011), Special Forces Gear (August 2011), Vanguard Defense Industries (August 2011), the Jefferson County Sheriff's Office in Alabama (October 2011), the Boston Police Patrolmen's Association (October 2011) and Combined Systems (February 2012).   Read the entire article >>
Source: Information Week | by: Mathew J. Schwartz