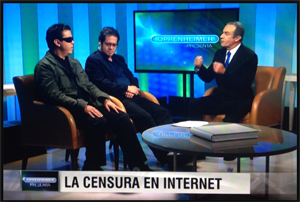 Rod Soto, Secretary of HackMiami will appear Sunday night, October 20, 2013 on CNN Latino's popular show, Oppenheimer Presenta.
Soto will join Andres Oppenheimer and guest Alberto Arebalos to discuss the various approaches to internet freedom around the world.
Governments around the world are facing the challenge of balancing free expression and national security, often with disturbing results for advocates of individual rights and freedoms.
The panel discusses a study conducted by Freedom House which analyses the spectrum of government internet intrusion across 60 different countries.  They address the questions: how far are governments going to censor the internet; is government spying defensible; and, is the study a fair representation of government actions.