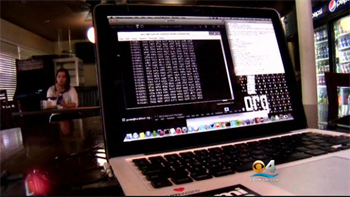 MIAMI (from:  CBS Miami) — If you have a smartphone or laptop chances are you have used free Wi-Fi before. But what you may not know is that you are putting yourself at risk to be hacked.
CBS4's David Sutta teamed up with a group called HackMiami to see exactly how it was done.
The group of hackers at Cyber Pizza in Dania Beach showed how they would need just seconds to steal your usernames and passwords, texts, even your photos all over Wi-Fi.