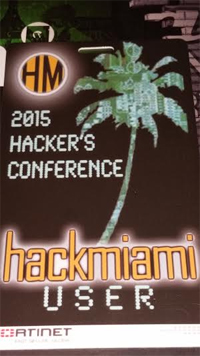 Is it a badge hack?  Is it a cypto challenge?  Is it a scavenger hunt?
Why yes, yes it is!
The hackable badge contest is making its initial appearance at the HackMiami conference this year.  The objective of the contest is to involve all who know about or want to learn about Near Field Communications (NFC), whether you know how to code or not.  Modeled after the badge contest designed by 1o57 for DefCon, "every effort is made to encourage experimentation and use of the badge long after the conference"*.
These badges don't have Parallax boards and you can't sorter anything onto them, so you're going to have to do what you can with what you've got.  You might want to start researching NFC reader/writers or look at some apps to throw on a phone to do some good and evil things with NFC.  You might want to beef up on your crypto and puzzle-solving skills too.
We'll give you a brief tutorial on some of the nifty things you can do with NFC and start you with an idea or two, but then the rest is up to you.
The rules of the game:  You can play individually or in teams.  You'll need to use the badge to get the clues. The clues lead you through the scavenger hunt which will give you a list of crazy things to do and hack and whacky items to find.  Hack or be hacked.  This challenge will test your imagination, your determination, and challenge your hacking skills in many and various ways.  The first person to solve all the challenges and submit the answer in the right format wins.
There will also be a prize awarded for the most ingenious and creative badge hack, so have fun!