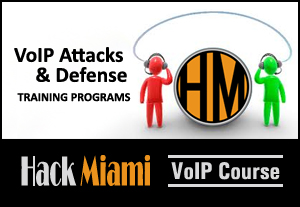 Course Description:
This course will cover all aspects of VoIP security configurations in a comprehensive lab environment. The course will cover exploitation techniques, post exploitation methodologies, denial of service vectors, and blackhat monetization methods that are in use by malicious actors during the present. Participants of the course will execute all concepts in a lab environment and develop an understanding of VoIP from the perspective of an attacker.
The course will go through penetration testing methodologies as it relates to the exploitation of vulnerabilities in the various VoIP services/protocols (SIP, RTP, RTCP, SRTP, etc), as well as common exploits and vulnerabilities in the most common VoIP web applications used in present day corporate environments.
Minimum Student Requirements:
– A Laptop with at least 4Gb of RAM with the ability of running at least 2 virtual machines.
– Understanding of Basic Networking Concepts
– Basic Linux Skills
Target Audience: This class is for intended for administrators of VoIP systems and other enterprise telecommunications infrastructures who wish to gain a comprehensive understanding of VoIP exploitation methods in order to better defend against such attacks.
About the Instructor: 
Dr. Proxy has worked within the telecommunications industry for 5 years exploiting phone systems and working with vendors to patch critical security vulnerabilities. He has been working with HackMiami for 4 years and is currently working as a security engineer for a communications company.